Meet Our Team
Our team of veterinarians is one of a kind, delivering high-quality veterinary medicine with kindness and compassion. With every service we perform, we aim to help you understand why we make the suggestions we do. As an informed pet owner, you can deliver better care for your pet every day at home, helping them to live long, fulfilling lives.

Meet our team of vets below, and schedule an appointment soon to experience our high level of care!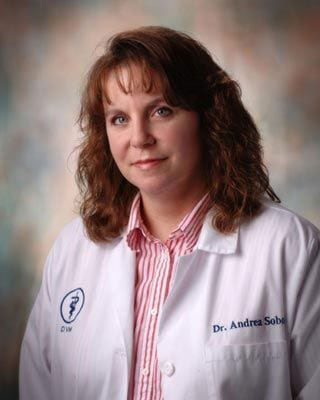 Dr. Andrea Sobon
I am a 2001 graduate of the University of Wisconsin-School of Veterinary Medicine and did my undergraduate work at both UW-Milwaukee and UW-Waukesha. Prior to veterinary school, I worked in wildlife rehabilitation. During my senior year at veterinary school, I completed a one-month externship at the Milwaukee County Zoo. My professors awarded me the Eberhard Rosin General Surgery award prior to graduation.These experiences helped develop my continued interest in exotic medicine and soft tissue surgery. I am a member of the major local and national veterinary associations, including exotic species. I have an eight-pound leopard tortoise, a bearded dragon lizard, and four cats.When I am away from work, I love to spend time with my husband, Erik, and my two children, Kristian and Anna. We like to hike and play soccer and tennis. Additionally, I love cooking and baking and often bring in my creations to share with my coworkers. My next big trip will be a first as a family, and we would love to visit Hawaii. I have also always wanted to go to Australia to see the many unique animals that live there.

I love working at New Berlin Animal Hospital for many reasons, particularly because of the animals I am able to help. Additionally, we are a family here and it is really nice to want to go to work every day. I began my employment at New Berlin Animal Hospital in 2005 and plan to stay until I retire.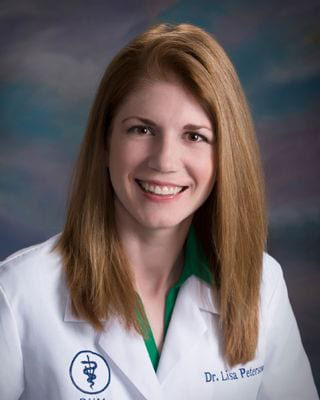 Dr. Lisa Peterson
I graduated from the University of Wisconsin-School of Veterinary Medicine in 2004. I joined the New Berlin Animal Hospital Team in 2007. I have had the privilege of caring for many patients for their entire lives here at NBAH. I strive to provide excellent care of both my furry patients and their families. I enjoy both preventative care and helping sick patients get the proper diagnosis and treatments they need. I have a special interest in dentistry and have been able to refine my skills in this area throughout my career. I also enjoy sharing my puppy training ideas and helping my senior patients to age as comfortably as possible. I work hard to earn the trust of both my patients and their families, and I try to provide clear options for patient care.

My husband and I have three children, that keep me very busy when I am not at the clinic. We share our home with two dogs, and I enjoy working on their training and taking them on adventures. I am active in our church and the kids' school, enjoy home projects, and love a nice glass of wine and a beautiful sunset.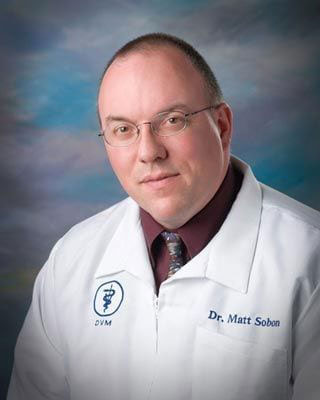 Dr. Matthew Sobon
I came to the exciting world of veterinary medicine as a second career. I graduated from the University of Wisconsin-School of Veterinary Medicine in 2006. My first career was in computer science, and I worked in the printing industry for 16 years as an electronic graphic designer. During college, I met my wonderful wife, Lynn, and we have three young adult children. We are in the process of becoming empty nesters…at least from human children! My wife works as a hospice nurse in the SE Wisconsin area. Our home has always been full of many animals. Currently, we have "down-sized" to two dogs and six cats.I joined New Berlin Animal Hospital in early 2009. Teaching new pet owners is very rewarding, and I especially enjoy all the puppies and kittens. Additionally, I have a special interest in surgery. I am particularly good at fixing cranial cruciate ligament ruptures (a common orthopedic injury).

My family and I enjoy biking and camping. I am part of a recreational soccer league and only occasionally come to work with visible injuries! I also dabble in woodworking and photography. I am seldom without my camera since you never know when the "perfect shot" will present itself.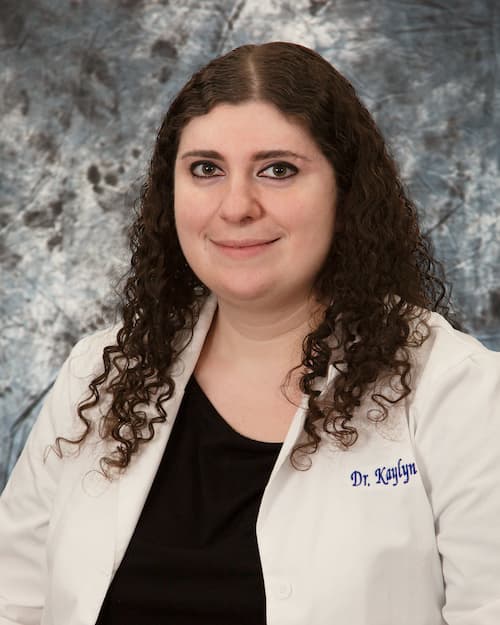 Dr. Kaylyn Goertz
I graduated from the University of Wisconsin-School of Veterinary Medicine in 2019. I was born and raised in the Milwaukee area and completed my undergraduate studies at Carroll University. Throughout high school and college I frequently volunteered at Schlitz Audubon Nature Center, and I also gained valuable experience volunteering at the Wildlife in Need Center. Prior to veterinary school, I worked as a veterinary receptionist and assistant at New Berlin Animal Hospital, and I got the opportunity to rejoin the team as a veterinarian in March of 2021.

I currently have two dogs (a beagle and a chihuahua mix), a cat, a rabbit, a guinea pig, a White's tree frog, and an axolotl. I enjoy hiking with my dogs whenever I get the chance, and I also love to go camping and traveling to new destinations, especially to National Parks and natural areas.

I am so happy to be back with my New Berlin Animal Hospital family and to get a chance to see the familiar faces of our clients and their pets once again!